Upgrade Your Bathroom with These Kohler Toilets for Sale in Collegeville
For those moving into a new home or remodeling their bathrooms, the toilet is sometimes overlooked. However, a high-quality, reliable toilet can really make a difference in terms of experience and style. Weinstein Better Bath & Kitchens has Kohler toilets for sale in Collegeville that can elevate your bathroom with the latest innovative technology and striking aesthetics.
New Technology to Keep Toilets Cleaner
Kohler has long been at the forefront of bathroom technology, and continues the trend with this newest development. Revolution 360 is a swirl flushing technology that ensure better flushes and cleaner bowls. The flush sends water throughout the entire bowl, providing 360 degrees of coverage. An AquaPiston flush canister utilizes a single, powerful jet to propel water out of the tank from all sides, increasing the power and effectiveness of each flush. The increased efficiency keeps the toilet bowl cleaner for longer, helping to avoid clogging and increase reliability.
Another technology advancement is ContinuousClean. ContinuousClean technology fights grime, germs, and stains with every flush to save time and to keep the bowl cleaner for longer. The system automatically dispenses a consistent amount of toilet bowl cleaner every time the toilet flushes. A dial built into the top of the tank lets you choose how many cleaning agents should be dispersed throughout the bowl with each flush. The blue LED light indicates that the cleaning agent is dispersing and the system is working correctly. Combined with Revolution 360, cleaning a toilet has become easier than ever.
Veil® Intelligent Toilet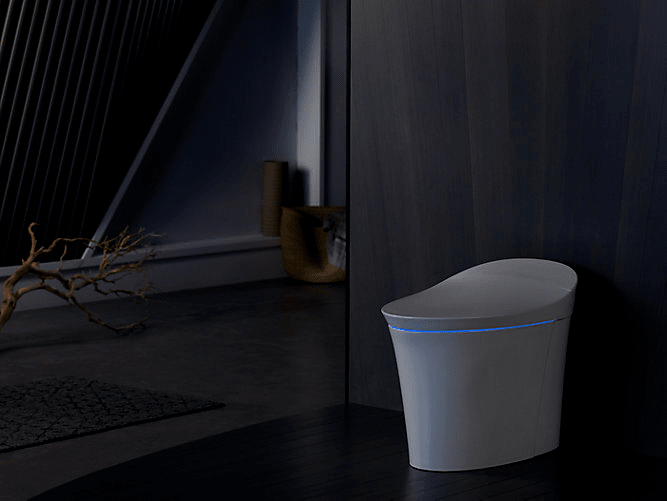 In addition to advanced technology, these Kohler toilets for sale in Collegeville also highlight excellent style and design. The Veil one-piece toilet personifies minimalist and ergonomic design. This toilet comes with flowing and immaculately balanced curves, along with integrated cleansing functionality. The sculpted core provides a series of features that offer excellent hygiene and individual comfort.
The Kohler Veil toilet, made from vitreous china, offers added room and comfort, thanks to an elongated bowl and a heated seat with adjustable temperature settings. The self-cleaning functions and features include the following:
UV light and electrolyzed water systems to sanitize wand surfaces
Warm-air drying system with adjustable temperature settings
Automatic deodorization system
Front and rear wash modes that provide warm water for cleansing
Some of the other features of the Kohler Veil toilet include motion-activated, hands-free opening/closing of the seat and cover. An LED light illuminates the bowl to serve as a nightlight. Integrated bidet functionality features a single bidet wand made of stainless steel with adjustable spray shape, position, water pressure, water temperature, pulsate and oscillate functions. And in case of power outages, the Veil toilet has an emergency back-up flush feature.
Visit Weinstein to Find Innovative and Stylish Kohler Toilets for Sale in Collegeville
As previously mentioned, the toilet is an essential fixture for all bathrooms. An innovative and stylish toilet, such as the Kohler Veil toilet, can improve your bathroom's aesthetics and the efficiency of your daily bathroom routines. You can find a variety of Kohler toilets for sale in Collegeville at our showroom. Our knowledgeable and experienced showroom consultants will help you determine which toilets best fit your style and needs. Contact us today, or call 610-409-8500 to schedule an appointment.