Improve Your Bathroom in 2023 With Intelligent Toilets near Pottstown
Intelligent toilets (also known as smart toilets) are the latest technology in home bathroom design. An intelligent toilet features many high-tech amenities that make it easier to keep your toilet clean and make the bathroom more comfortable. And with 2023 just around the corner, many homeowners are looking to make remodeling plans for their bathrooms. If you are one of those homeowners, here are the features of intelligent toilets near Pottstown and how those features make intelligent toilets desirable.
Features of Kohler Smart Toilets
Kohler has a variety of intelligent toilets and bidet seats, all with many features that range from keeping the toilets clean to keeping you comfortable. For example, models like the Eir and Veil have a compact, streamlined design with integrated personal cleansing and elongated bowls. Those elongated bowls offer added room and comfort, especially for those with mobility issues or those who need ADA-compliant toilets. These toilets also have Comfort Height®, a Kohler feature that makes toilets that stand as tall as chairs, making sitting down and standing up easier for most adults.
Bidet Cleansing Features
Bidets provide many benefits over toilet paper, one of which is that the spraying water of a bidet is more hygienic and is better at cleaning and removing residue. A bidet can also reduce the chances of your sewer pipes clogging since you use less toilet paper. In addition, using less toilet paper can help you save money in the long run and reduces the number of trees cut down for those who are passionate about preserving the environment.
Kohler's intelligent toilets come with advanced bidet functionality, which separates these smart toilets from others. The bidets give you the option to adjust many variables, such as the following:
Spray shape
Position
Water pressure
Temperature
Pulsate and oscillate functions
In addition, specific models such as the Karing have precision air drying so you get a cleaner, more comfortable experience every time you use the bathroom.
Self-Cleaning Features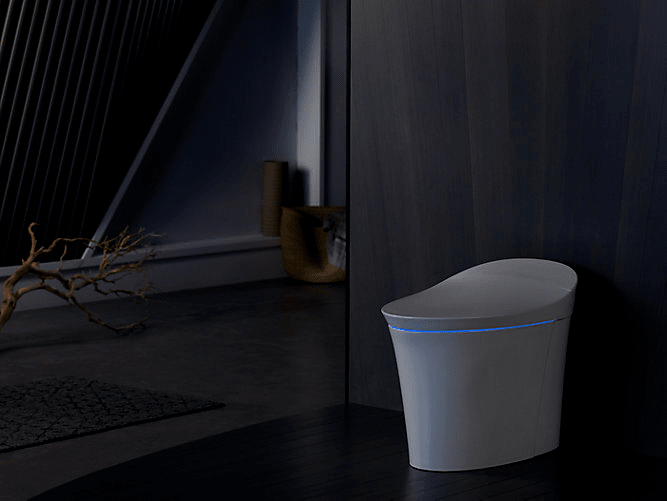 One of the other key features of intelligent toilets near Pottstown is self-cleaning technology. Kohler smart toilets have self-cleaning wands that use UV light and electrolyzed water systems to clean the wand surfaces automatically. Also, the toilets automatically sanitize before and after each use. The result is that, combined with the bidet, both you and the toilet are cleaner. These toilets also have automatic deodorization systems.
Features for Comfort & Ease of Use
In addition to technology meant to keep the toilet cleaner and more hygienic, intelligent toilets also have features designed to maximize comfort and ease of use for homeowners. One such feature is a heated seat with adjustable temperature settings so that you feel warm and relaxed on cold winter days.
These toilets also have touch-screen LCD remote controls, which let you control various elements, such as LED lighting that illuminates the bowl to serve as a nightlight. In addition, the toilet seat cover is motion-activated, allowing for hands-free opening and closing.
Find Intelligent Kohler Toilets at Weinstein Showroom in Collegeville
If you want to upgrade your bathroom with intelligent toilets near Pottstown, visit Weinstein Bath & Kitchen Showroom in Collegeville, PA. Our bathroom and kitchen showroom highlights Kohler's innovative, high-quality toilets. In addition, we have a passionate, experienced team of showroom consultants who can guide you through our selection and help make your dream bathroom a reality. Contact us today, or call 610-409-8500 to schedule an appointment.